What about those who want to ride their bike on cold days? Cycling in winter is not so scary at all if you prepare well for it.
1. Layers, layers, layers
Whatever you do in the cold weather, including cycling, dressing in layers is the way to go.
It is better to dress in more layers than to wear the baselayer and then the thickest thing you have in the closet. Riding a bike in a thick winter jacket and ski pants will be all but pleasant. You will sweat and your body will cool down.
Tip 1: Dress so that you are a little cold when leaving the house.
After a few minutes of pedaling, you will get to the right temperature. If you feel too cold when starting, you are too poorly dressed, but if you feel comfortable before you sit on the bike, you are overly dressed.
Of course, a lot will depend on the driving time. If you ride to and from work, you will certainly not dress like you would for an hour's ride..
In any case, as the last layer, you should wear some kind of wind-resistant jacket, which will additionally reduce the feeling of cold that comes with gusts of wind.
2. Bike gloves
Even if you only ride to work, bike gloves are a must-have winter accessory. You will lose most of your heat right through your fingers (and head), and you don't want your fingers to fail you as you approach the red light or any kind of obstacle.
For shorter rides, regular winter gloves will be ok, but cycling winter gloves are especially important for those who ride a bike on longer routes and continue regular outdoor training on cold days.
Winter gloves should be waterproof, windproof and most importantly they should go over your wrists and blend in with your jacket or inner layer of clothing. That way you will prevent any heat loss.
3. Hat and scarf
Just as you have to protect your hands, you have to protect your head and neck. Again, for shorter rides, the plain scarf and hat will do the job. All that matters is that the hat covers the ears and forehead.
Our recommendation is to get a buff scarf or similar. It is actually a multifunctional item that can serve as a hat, a scarf, and protection for the whole face. It is mostly made of 100% polyester, and it is excellent protection against wind, and winter and dries quickly.
A good source of heat is a bike helmet that you would wear over a hat or a scarf and thus further protect your body.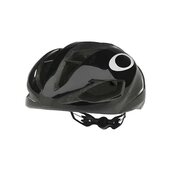 Check prices
4. Cycling sunglasses
It goes without saying, cycling sunglasses and goggles are a must-have even in the summertime when eyes struggle with gusts of wind and/or a stray insect, but the cold air that flows into your eyes can be doubly unpleasant. That is why we strongly recommend you stock up on a pair of goggles for the winter months.
Check prices
5. And what about your feet?
Be sure to avoid cotton socks, and it is ideal to opt for thin but warm cycling socks. Best if they are made of wool. In addition to sweating, getting wet feet in various ways is a possible scenario, so wearing protective overshoes over your regular cycling shoes solves these problems since they are water-resistant and will keep your feet warm and insulated. They are usually breathable at the same time so they are very comfortable to wear.
Check prices
6. Reflective equipment
In the winter months, there is a good chance that you will be caught in the dark on a bicycle, so it is always good to have a reflective cycling vest with you, which will significantly improve your visibility and increase safety for yourself and other road users.
If the reflective vest is not your favorite fashion accessory, wear cycling jackets in bright colors or with reflective prints on them.
Check prices
7. Bike lights
Good headlights and taillights, combined with reflective garments, guarantee good visibility in the winter months.
In addition to the headlights and taillights, your bike's pedals should also have a reflective strip to be as visible as possible on the road. It may seem to you that we are giving the basics, but many still do not pay enough attention to visibility while on a bicycle.
Check prices
Enjoy your winter rides!
For this and more cycling equipment take a look at our site. We continuously scour the net to bring you the best deals on bicycle accessories, bicycles, cycling clothing, and bicycle components.
GJ