There's nothing better and more satisfying than a good cycling workout. On the other hand, having sore muscles, and feeling tired and unenergetic is the bad and unfortunately unavoidable part of any sport, particularly sports such is cycling. What can you do better to recover faster and more effectively so you can get back on your bicycle sooner and more rested?
First thing to remember is that your recovery starts the minute you get off the bicycle. Your body is depleted of stored energy and it needs hydration. So instead of grabbing a beer and chips, no matter how tempting they may be, opt out for some simple hydration, water in combination with a drink with electrolytes. While getting hydrated a nutrition bar that has some protein for muscle reparation and recovery works wonders. This way your body starts restoring and the recovery process right away.  Below are some great options:
BEST CYCLING RECOVERY DRINK
Hoist Premium Hydration Isotonic Electrolyte Drink
Get From Amazon
BEST DISSOLVABLE OPTION FOR YOUR WATER BOTTLE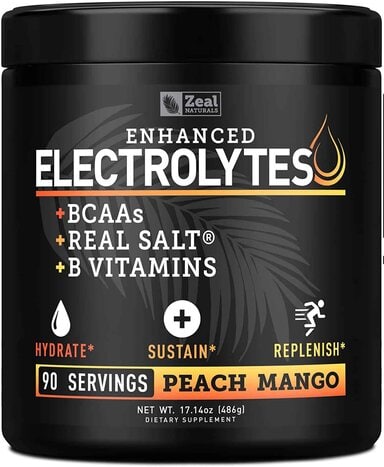 Zeal Naturals Electrolyte Powder Recovery Drink
Get From Amazon
BEST CYCLING AFTERWORKOUT BAR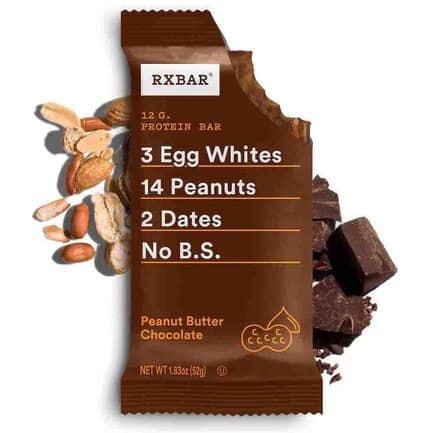 RXBAR Simple Recovery Healthy Bar
Get From Amazon
If you had a really hard and long ride you might consider an ice bath. Even though the cycling world is divided when it comes to ice baths, it is found to be beneficial after hard cycling sessions, and some people swear by them, so it is also a personal preference and what you find working the best for you. I know what you think, how am I supposed to take a cold bath in my tiny apartment? Luckily, there are options such are these TUBS on the market, which are foldable and can be used in the smallest of spaces. You'll just need some ice and you're good to go. If a cold bath is not your cup of tea, a cold shower can be a beneficial tool, especially when followed by some recovery regime such as a foam roller work and percussion device massage.
BEST FOAM ROLLER
TriggerPoint Grid Foam Roller 26 in. – this model and size are great for that deep tissue massage and relief after a hard workout. Great for legs and back.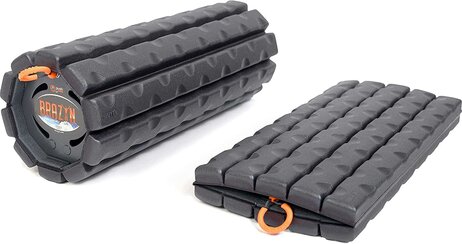 BEST PORTABLE ROLLER
Brazyn Morph Foam Roller– amazing collapsible model to take your foam roller on the go. We love the fact that it takes up almost no space in your luggage or training bag.
BEST STRETCH MAT
Manduka PRO Yoga Mat– In our opinion nothing comes close to Manduka Pro mats for stretching or just laying on the floor and having an after-workout meditation.  It is pricy, but it will outlast the competition.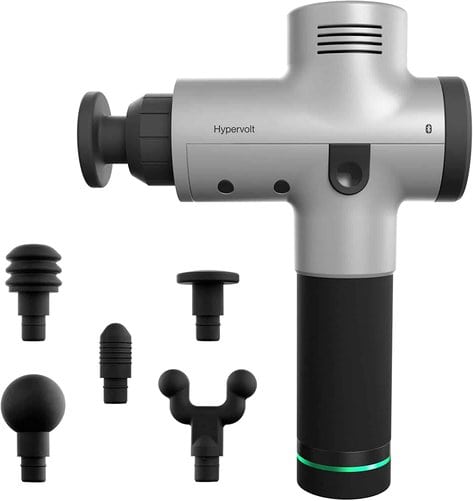 BEST PERCUSSION DEVICE
Hypervolt Bluetooth – Handheld Percussion Massage Gun. We all wish we could all have a personal masseuse/masseur like the pros we see on Grand Tours, but since we live in the real world we need to settle for the next best thing. This model from Hypervolt is the closest thing to a real massage you can have.
BEST DIRECT DRIVE SMART TRAINER FOR RECOVERY RIDES
Tacx Flux S Direct Drive Smart Trainer – Get From Amazon
One of the worst things you can do is just take time off until you recover from your ride. Active recovery is a great way to reduce soreness in the legs and put extra miles in. We know that getting on the bicycle the day after a hard workout can be rough and time-consuming, but even a short ride on a home trainer will get the job done and can cut your recovery in half. You don't need the highest-end model to get the job done, this model by Tacx works with Garmin and it won't break the bank.
That concludes our list of best cycling recovery products in 2021. Follow these simple guidelines and invest more time in your recovery and nutrition and you will see huge payoffs in training and race performance.
For recovery products and more cycling equipment take a look at our site. We continuously scour the net to bring you the best deals on bicycle accessories, bicycles, cycling clothing, and bicycle components.